Profile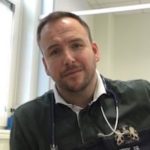 Simon Browes
Curriculum Vitae
Education:

Silverdale School (Sheffield), University of Nottingham, University of Derby, University of Greenwich, University of Birmingham, University of Stirling

Qualifications:

MSc, BSc (Hons), DipN, RN, SCPHN, RCN Cert Sexual Health, RCGP Cert Minor Surgery, RCGP Cert Management of Drug Misuse; and studying for a Clinical Doctorate (DNurs)

Work History:

Accident & Emergency, Community Health, Child Health, Sexual Health, Government (Regulation), University (teaching and research), General Practice

Current Job:

Clinical Director (Primary & Urgent Care), Advanced Practitioner (General Practice)

Workplace:

NEMS Community Benefit Services
About Me:

I love travelling, learning, teaching and my job!

Read more

I live with my partner near to Nottingham. We have a cat called Teddy. I like to travel as much as possible and have been to many places around Europe, as well as Canada, Dubai, Australia and New Zealand. I spent most of my career in Nottingham but have worked in London and Manchester too, as well as New Zealand for a couple of years . I prefer sunshine to cold weather. I grew up in Sheffield with three brothers and three sisters.

My Work:

Advanced Clinical Practitioner & Clinical Director

Read more

I originally trained as a nurse, specialising in community health. I did specialist training to become a Health Visitor (mainly looking after families with young children) and then further postgraduate training to become an Advanced Practitioner.

Although I am still a nurse, a lot of my work with patients is very similar to a GP. I see people of all ages with all sorts of health needs, from small babies to the elderly. I work in a practice with a broad range of patients, many have mental health problems. I am able to diagnose and treat medical problems independently, including prescribing medicines. I also perform minor surgical operations, such as removing lumps and bumps.

As the Clinical Director for our organisation, I am the senior manager responsible for all of the nurses, paramedics, healthcare assistants and others who work directly with patients. I am responsible for ensuring staff have the right skills and knowledge to do their jobs, and that we have procedures and policies to help them make good decisions.

My Typical Day:

No two days the same!

Read more

During a typical week I can do a whole range of things. On a Monday I might be at the surgery to do minor operations for patients with worrying lumps and bumps. On a Friday I could be doing a general clinic, seeing people with all sorts of health problems.

I am very involved in education for nurses and doctors as well as students from local universities. I help to plan and arrange their education and placements in General Practice and community services as well as teaching practical skills.

I go to a lot of meetings about planning local and national health services, working with other healthcare organisations. For example I am often asked to provide "expert advice" on how urgent and primary care services can be improved and have a particular interest in workforce and education.

I am studying for a clinical doctorate, so some of my time is dedicated to doing research.
Quick Fire Questions

How would you describe yourself in 3 words?

Compassionate, Curious and Clever (?)

Who is your favourite singer or band?

What's your favourite food?

What did you want to be after you left school?

Were you ever in trouble at school?

What's the best thing you've done in your career?

What or who inspired you to do your job?

If you weren't in healthcare, what job would you do?

If you had 3 wishes for yourself what would they be? - be honest!

To be always happy, fit & fearless.

Tell us a joke.

A guy shows up late for work. The boss yells, 'You should've been here at 8.30!' He replies. 'Why? What happened at 8.30?'
---