These notes will help you get the most out of your experience of I'm a Medic.
Any questions, or issues not covered, please email support@imamedic.org.uk
Top tips
Fit the activity around your schedule

There is no minimum time commitment required for this outreach activity. Complete your profile, take part in live Chats whenever you can and answer follow-up questions when it suits you. It can also be useful to get your colleagues and boss onboard as most live Chats will be during working hours.

Be friendly and yourself

Be yourself in your answers. You don't have to pretend to like Lizzo/Charli D'Amelio/MrBeast for young people to relate to you – being genuine is more important. Try to be open and personable from the start. You will get a range of questions – from the Zone theme to your favourite cereal. Some questions may be outside of your area of expertise. Don't be afraid to say 'I don't know'; this will help students see that scientists aren't all knowing-geniuses.

This is not a seminar for the scientists of the future

There will be a wide variety of students taking part, meaning a wide variety of ages and abilities. Some will be 'gifted and talented' students, some will be lower ability classes, or have additional educational needs. The point of the activity is to provide a space that engages all students, not just the ones who might go on to study STEM subjects at university. Keep your language simple and avoid using technical words.

Don't "identity"; "find". Don't "utilise"; "use". Don't "investigate"; "look at".
Introduction
This March, I'm a Medic, Get me out of here connects healthcare workers with school students across UK counties. Students will Ask questions, Chat with you in a live, real-time Chat, and Vote for their favourites to win £500!
Ultimately, it's about helping all students, whoever they are, feel that a career in healthcare can be something 'for them'.
Activity summary
You use this site to connect with young people (aged 9–18) at schools at selected counties in the UK. You answer their questions about your day to day work, your career, your hobbies and interests, and just about anything the students can think of. Take part as a team to showcase the wide variety of job roles it takes to make the NHS work.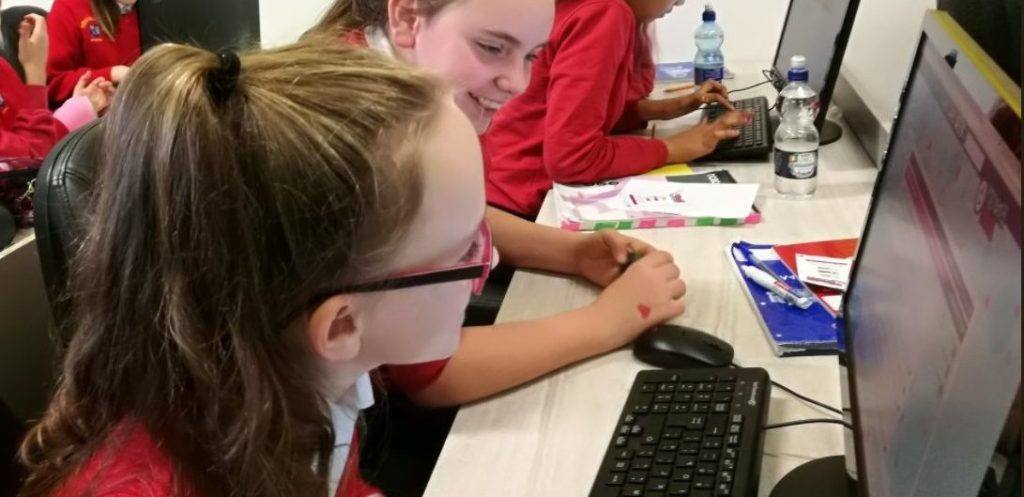 In addition to your Dashboard and profile there are three parts to the site:
Students Ask you and your team questions which you answer in your own time.
You Chat with school students online, answering their questions and hearing their opinions.
Students Vote for a healthcare team to win £500 to fund their own schools engagement activity
How to use the site
Log in and get started
If this is your first time taking part, choose a password to set up your account.
We will send you your username by email. '
Your profile information
Your profile is designed to give students and teachers the opportunity to get to know you. It includes pictures, information about you and your work, some interview style questions and a small section on work history. All of these have been added to give students the best insight into who you are and helps them relate to you.
It's important that you fill in your profile as soon as possible. It typically takes 20 to 30 minutes to complete.
You can add as much or as little information as you like. Using plenty of photos can make your profile accessible for students with lower literacy but please make sure you have permission to use any pictures of your workplace.
Edit your profile

Top tips for writing your profile:
Complete all the sections: Every section has a purpose and helps students relate to you. Please ensure you complete them all, ideally before live Chats start.
Add photos or embed videos: Pictures and videos are a great way to give students with lower literacy an idea of who you are. Share as many as you like but make sure you have permission to share them beforehand. Please note some schools will block video hosting sites, so don't make your profile reliant on video.
Keep it short and simple: Avoid jargon and keep your sentences short and easy to read. The age range of students visiting your profile will be between 9 and 18.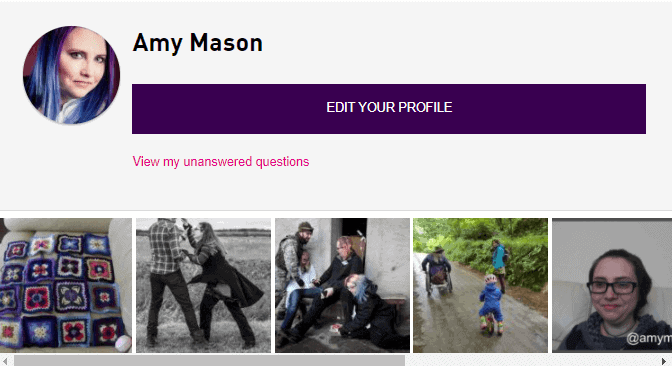 Note on social media accounts: Please do not add links to personal social media accounts (e.g. Twitter handles, Instagram). This helps keep the school students' interactions with you during the activity in a fully moderated space, i.e. this website.
To edit your profile, log in and click Edit your profile on your dashboard.
Tip: When filling out your profile remember to save regularly by clicking Update Profile at the bottom of the page
Team profile
You will have a profile page to talk about your team as a whole. This is completed by the Team Leader and is for students to read a summary of your team, and what links you all together.
Live chats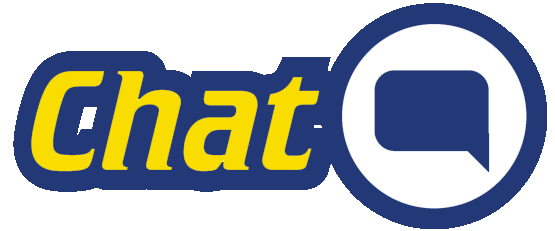 Throughout the Zone, teachers can book live Chats for their classes. These will typically be during school hours, i.e. 9am to 3pm.
Live Chats are fast-paced and text-only, typically last 40 minutes and are the most popular part of the activity. They are often fun, lively and energetic. They provide an immediate connection between scientists and students.
There will always be a member of our moderation team present to ensure live Chats run smoothly.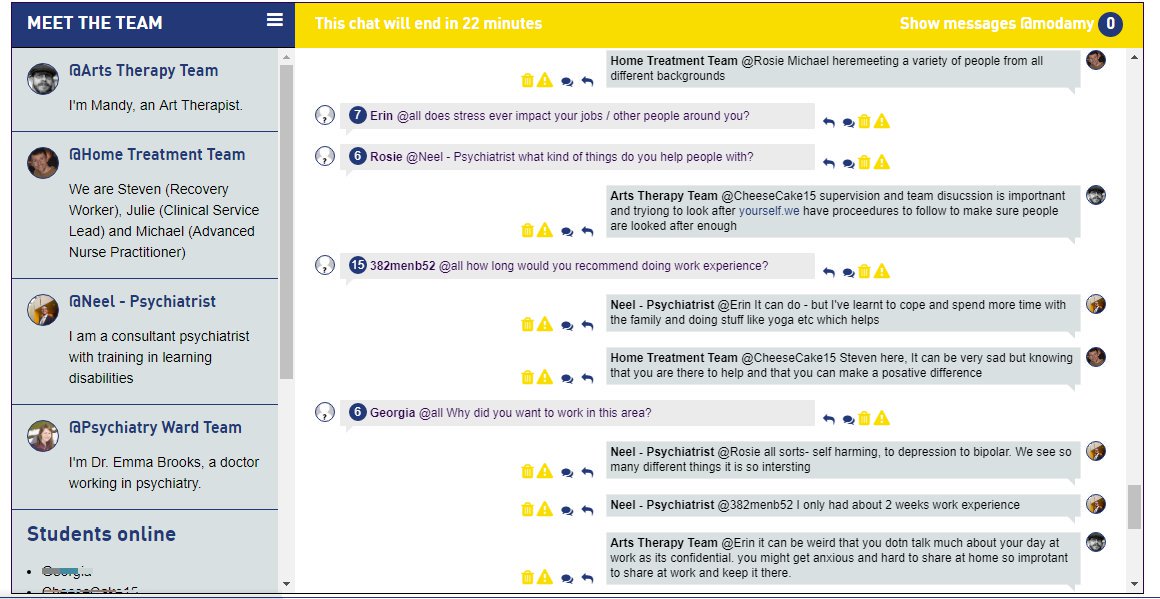 Teachers tell us that due to the text-only nature of the Chats, quieter students are more active than they would be in a face-to-face interaction, providing an interesting change to class dynamics.
Conversation in live Chats
The text-based nature of live Chats gives students the opportunity to ask whatever question is on their mind. Topics will range from the Zone theme, to your life as a scientist but also around your personal life. We ask that you write clearly in a way that will be accessible to students of all ages and levels. Read our full article on writing clearly for I'm a Scientist ❯
Here's a great video from the Wellcome Trust, which might also help:
Questions such as "Do you play video games?" may seem off-topic to you but they are actually important in showing students that scientists are 'normal' people with similar interests. It enables a rapport to be built.
Our moderators make sure no question is offensive or rude but you will come across personal questions. For example, students may ask about your salary. Please respond to these in any way that you feel comfortable. Those questions provide students valuable insight into your career.
In the screenshot below you can see a number preceding the students username, this shows you how many times a scientist has clicked 'reply' to one of their questions.
Managing chats
Check your dashboard regularly to see upcoming live Chat bookings that teachers have made.
'✔ Accept' a booking to let students and teachers know that you're attending.
'X Reject' a booking if you can't make it. If you become available later you can always change your mind, or join a Chat spontaneously on the day. Any Chats you can see on your dashboard have space for more scientists.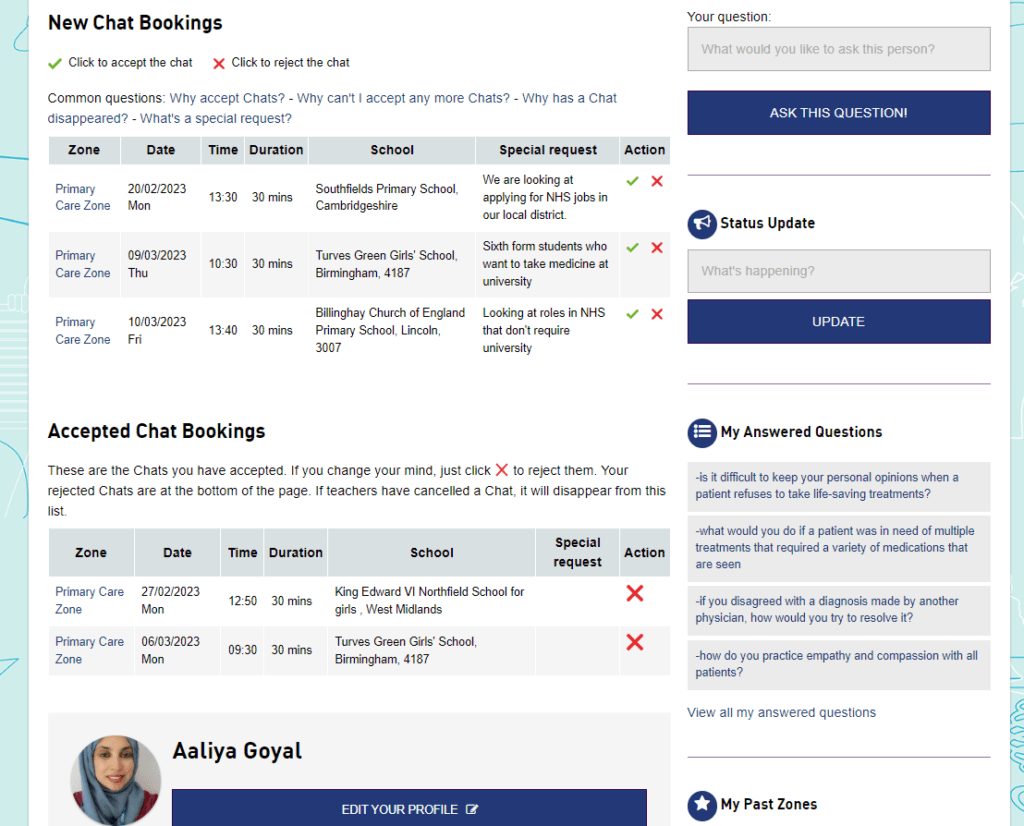 You can accept a maximum of 10 Chat bookings at a time. Once you've taken part in some, you can accept more again.
Unfortunately, sometimes a Chat gets cancelled. If a teacher has had to cancel a Chat it will disappear from your 'Accepted Chat bookings' view.
Tips for the chats
Keep it simple: de-technify your language, don't worry about spelling mistakes and enjoy the hustle and bustle of the Chat. Try to answer the question on the level it was asked as you'll be chatting with a range of ages.
Keep track of questions and replies: Chats can be fast paced. Make sure to hit reply to a students' question. Look out for the number indicator next to students' names to see how many replies the student has had. Click Show Messages in the top-right corner to see questions directed at you.
Go with the flow

: Be aware that young people's turn of phrase and use of language is different. Try to understand what they're asking and don't take offence at blunt questions. Some questions will be personal but answer them as best you can -it will allow students to connect with you.
Answering Ask questions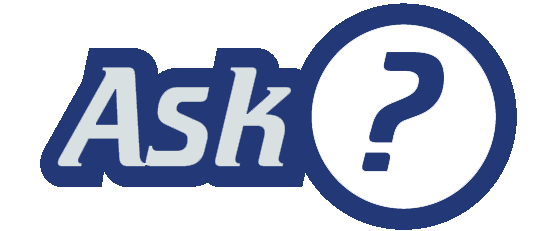 We will notify you by email when new follow-up questions are asked. You can answer them in your own time, but the sooner the better.
Answer questions by logging in and going to My Unanswered Questions on your dashboard. Some questions will be asked to all the scientists in the Zone, others may be specifically for you.
Try to answer the questions honestly, straightforwardly and use clear plain English.
Questions about money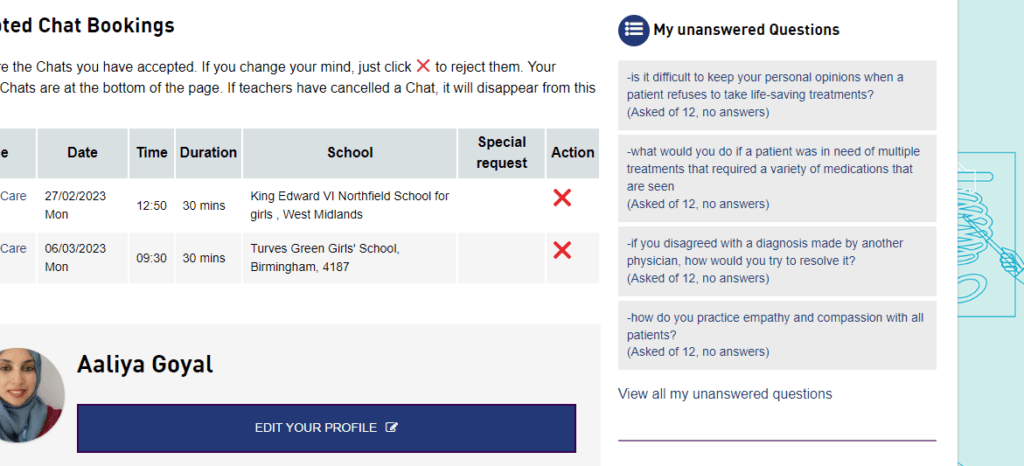 The majority of students who you will be in contact with don't know scientists in their surrounding community. Therefore, questions like "How much money do you make?" are common and important to them. They provide them with valuable career insight, so try to answer it if you feel comfortable. You can always give a ballpark figure.
Answering questions on Coronavirus
We expect few questions about coronavirus/COVID-19, like 'How does covid infect people?' and personal ones like 'How are you coping?'.
This advice will help you if you have concerns about how to answer: Guidance for questions on Coronavirus (COVID-19)
Moderation of questions: Our policy
All questions in Ask are moderated before they are sent to you. The moderators work very hard to strike a balance between making your lives easier as participants, and giving students the chance to ask real questions.
Remember most students are 13 or 14 years old, although there are some Sixth Form classes taking part too, or you may be in a Primary-only zone. Some classes are from Special Educational Needs Schools or young offender institutions.
Duplicate questions
We know you will get sent some very similar questions (believe us, the moderators wade through and weed out a lot more of them!). Moderators will take out duplicate questions in Ask, but allow through questions which may be similar, but make additional or slightly different points.
Offensive questions
Moderators will remove rude or offensive questions (there are generally very few) and anything which breaks the house rules. They will allow challenging questions. They will allow irreverent, but friendly, questions. There will always be a moderator or teacher logged in to the chatroom to help things along.
However, they are not miracle-workers, and from time to time there will be the odd chat that we cannot get on track. Bear with us, we're doing our best!
Prize money
We know you're not doing this activity for the glory. However, we still want the time you're giving to connect with students to be appreciated.
Prize money for your project
The students are voting for the healthcare team they think should win £500 for their own engagement ideas.
This could be school visits, fair exhibits, videos or podcasts, blogs, arranging class visits to your office….
During the activity the team with the most Votes are announced every Friday. The overall winner is revealed on the final Friday afternoon.
Check out how past winners in I'm a Medic have spent their money.
You can take the Vote part of the activity as seriously as you like. There's no pressure on you to push for votes and no negative consequences for not winning. We never publish the number of votes.
For students and teachers, though, considering who to vote for is an important part of the activity. It gives students a reason to think critically about the work you do. Please keep this in mind if you're asked 'Why should we vote for you?'.
Talk to us!
Please communicate with other healthcare workers and the moderation team, as well as the students. We've occasionally had people finish the activity and say in feedback they were having technical problems, or were worried about particular questions, or similar. We'd much rather hear at the time so we can do something about it.
Let us know if you're having problems by using the feedback form on the your dashboard page, use the Staffroom Chat page, or email us directly: support@imamedic.ddev.site
We use Twitter as a way to interact with people taking part in I'm a Medic, among other things. It's a great way to communicate how your zone is going, learn more about you, the people taking part, and ultimately keep in touch with everyone after the activity.
Contact
If you need any help, please email support@imamedic.ddev.site
Visit the Staffroom at imamedic.ddev.site/staffroom during the activity to say Hi, or if you've got a question for the moderators.
The small print page
By accepting your invitation to I'm a Medic you are agreeing to these listed terms and conditions
We think you'll agree with it but it's best to be sure, so please have a read.